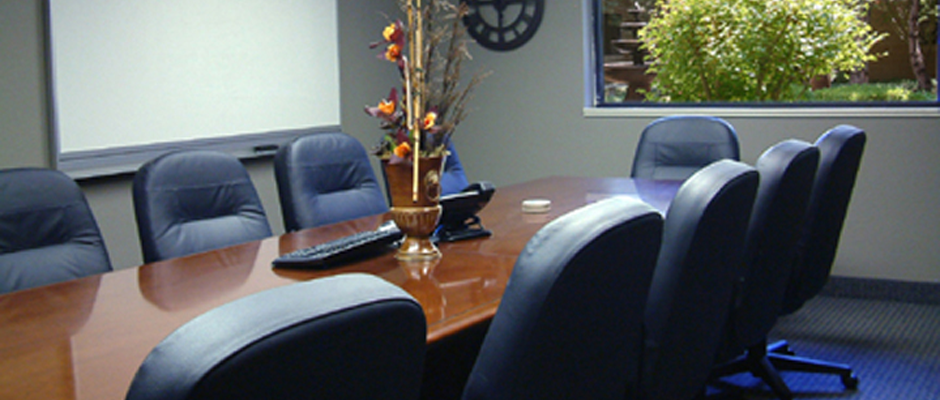 "Executive Suites" We have beautiful garden suites, furnished or unfurnished, that can be leased by the year, month or week. We provide telephone service, internet access, and have a full time professional receptionist to answer your calls. We offer secretarial services, copy machine, fax service, mailing services and most any other business need required to operate your business.
Here are some of the amenities offered in this program:
Live receptionist to receive and forward your calls during regular business hours and greet your guests
24 hour voice mail, automatically notifying you at any given time you request
Mailing services
Internet access
Reception area signage and business card display
24/7 access to building
Access to printer
Photocopier available
Postage Meter available
On site Office Manager
Janitorial included (5 days per week)
Conference Room includes: Our conference rooms are available by the hour, for your meetings for groups up to twelve. These rooms are available on an appointment basis, so please call to reserve your times. Our larger conference room includes monitor that may be hooked up to your laptop for business presentations A large white board is available for your use. Conference- call ready. If you need catering for your meeting, we can arrange that for you. We can supply color or black & white copies if needed. Remember, our staff is your staff for any needs you may have.
Additional Services:
Secretarial services
Bulk mailings
Parcel and Packages shipping
"Virtual Suites"What is a Virtual Executive Suite? We provide telephone answering services, using a live receptionist, with call transferring available to any location you may be at, including cell phones. You have use of our conference rooms to meet with your clients and much, much more. The Virtual Executive Suite is the ideal suite for the person who doesn't need a workspace but still wants to present themselves with a professional appearance, with a staff to help conduct business, at a minimal cost. You may be working anywhere in the world, but we will be maintaining your business presence in Carson City, Nevada.
Here are some of the amenities offered in this program:
Use of our conference room (2 hours Mo.)
Physical Mailing address Mail forwarded daily or pick-up at your convenience
Listed Telephone
Live receptionist to answer your calls (8am—5pm)
Calls seamlessly forwarded to you, wherever you may be within the U.S.
24 hour voice mail delivered to you at any time you specify or on demand
Faxes forwarded to you from our community fax
Conference Room includes:
•Internet access
•Monitor for presentations
•Overhead projector for slide presentations
•Seating for up to 12
Additional Services:
Secretarial services
Bulk mailings
Parcel and Packages shipping
"How An Executive Suite Can Benefit Your Business"
Once you start to add these services up, you'll see that there is a great cost-reduction benefit to utilizing our Executive Suites.
If you had to take the time and purchase/lease all of the equipment included with your space at Pinnacle Executive Suites you will see what a bargain you would really have.
Let's list a real example so you can see the savings:
For as little as $495 per month ($5060 per year) you will receive an upscale office, meeting rooms and reception area with signage in the hall and reception area, along with space for your business cards. Compare this with your private office, with conference room and reception area: $6,000 per year
You will also have a professional reception staff, valued at more than: $15,000 per year
Janitorial service to clean your building: 3,000 per year
Private telephone and other utilities including internet access: $1,900 per year
This totals over $20,000 per year in savings at Pinnacle Executive Suites, making $495 per month a real bargain! But more importantly, all of this is taken care of for you, leaving you with no additional worries.
All of your time is spent conducting your business, with no trivial distractions or expenses to concern yourself with. You get to do the things that interested you when you started your business, forgetting the mundane trivia that can fill a day away from what you should be doing.